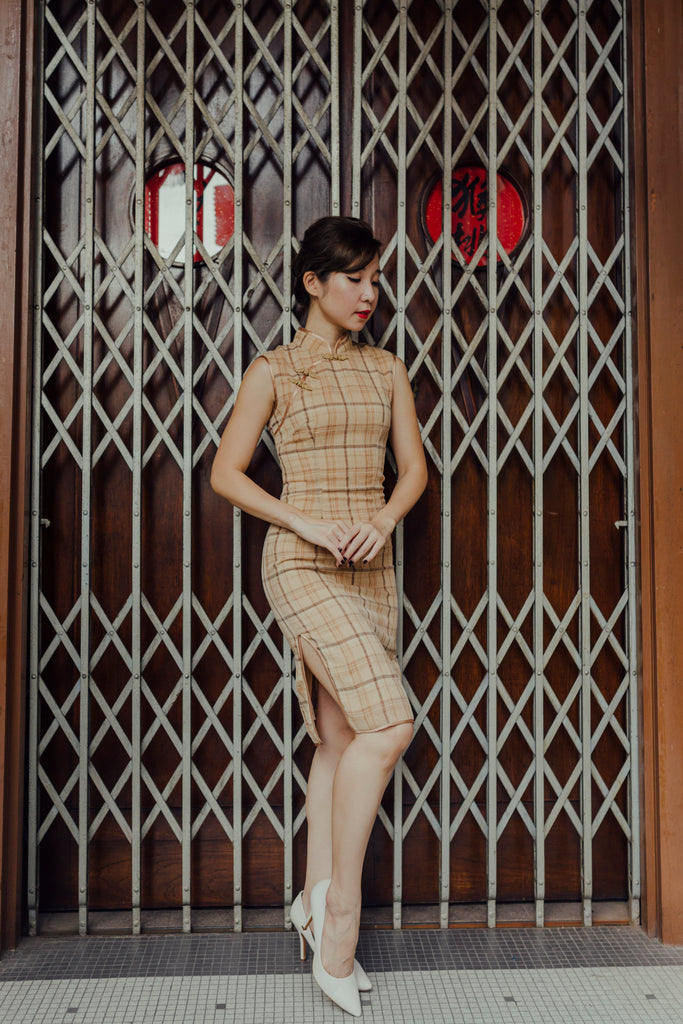 Su Li-Zhen Cheongsam in Sand Plaid
$309.00 SGD
I fell in love with elegance and beauty of cheongsam since watching In The Mood For Love for one of my assignments in school. Maggie Cheung as Su Li-Zhen wore so many beautiful pieces in the show that left me dreaming of owning her wardrobe.
I did sort of get my wish fulfilled when I managed to track down the tailor in Hong Kong and bought a piece of cheongsam from him. Unfortunately, he no longer make them in the printed fabric that he did for the movie. Apparently, they no longer make fabrics like that anymore. But it's alright, I'd take what I could get and I did wear the light green gold maxi cheongsam for my actual day. However, I couldn't get over the fact that I'd still want to add beautiful printed cheongsams to my closet, therefore, here we are today. Our first body fitting cheongsam and this wouldn't be the last one, I promise.
Last year, I decided to add an oriental flavour to my collection just in time for Chinese New Year but I didn't have the courage to make pieces that are body hugging because Shopbluebelle's vintage inspired range has always been about that fit and flare silhouette. Body hugging, classic and elegant (very tempted to add AF here).
It has concealed back zipper and decorative buttons.
UK6. To fit approximate measurements: Bust- 31.5". Waist- 25". Hips- 35". Length- 36.5"
UK8. To fit approximate measurements: Bust- 32". Waist- 26". Hips- 36". Length- 38"
UK10. To fit approximate measurements: Bust- 33". Waist- 27". Hips- 37". Length- 38.5"
UK12. To fit approximate measurements: Bust- 35". Waist- 29". Hips- 39". Length- 39"
Washing instructions: Delicate fabric. Hand wash only.
Ammy is UK6, 158cm. She is wearing UK6.